Up to 62dB Acoustic
Rating
Ei30 & Ei60 Partitions Fitted Up To 3m High
Fire rated single & double doors, up to 3m High
Fully demountable partition system
Full design & specification service available
TG100
Fire Rated Glass Partitions & Doors
While most Glazed Systems do not require fire rating to conform to UK building regulations, we understand the importance of giving our customer's peace of mind. As experts, we realise that safety is a necessity of every project. Our range of innovative, certified Fire Rated Glass Solutions offer unique Framed and Frameless Systems of integrity and insulation from 30 – 60 minutes (EI30 – EI60) performance standards that meet the most rigorous scenarios.
All of our Fire Rated Glass products can be customised to meet customer's needs and can be integrated seamlessly with our Non-Fire Rated product range. Each solution offers excellent Acoustic performance.
Read-More...
In commercial and other work environments (schools, hospitals, leisure centres, police stations and more) Fire Rated Glass Doors and Fire Rated Glass Screens can limit the spread of fire – allowing enough time for escape to safety – POTENTIALLY SAVING LIVES!
Our Tg100 Ei30 and Ei60 Fire Rated Glass Screens and Fire Rated Glass Doors lead the way in innovative Seamless Glazing Systems, consisting of a 30mm deep section and an ultra-slim profile, making them one of the most contemporary choices on the market.
All of our Fire Rated Glass Screen And Door Systems can be tailored to suit to each customer's design.  Our UK manufactured systems can be installed by our professional team efficiently and within budget, allowing you to enjoy your new, secure space with shorter lead times (4 weeks*).
Our specification and design service help streamline the process for architects and other project managers providing technical details, drawings and advising customer's on options most suited to their requirements. Our Fire Rated Glass Systems are fully compatible with switch glass, integrated blinds and our Loft Style Glass Partitions.
Contact us regarding Fire-Resistant Glass Today
If you would like to find out more about our full range of Fire Rated Glass Screens and Doors, then one of our experts will gladly be on hand to help with your enquiry. Give us a call on 0203 7935455 or email us at info@glass-interiors.co.uk and we will get back to you with a response within 24 hours.
See-less
Please fill the form below to enquire about our systems
Dimensions
Height up to 3000mm High
Fire Rating
Screens – Ei30 / Ei60
Doors- Ei30 / Ei60
Acoustics
Upto 62dB (Rw) +/-3dB
Loadings
Upto 3kN Line Load (1100 High)
Deflection Head
+/- 25mm
Door Options
Single Glazed
TG100 Door System
Door Frame Options
Aluminium
Fire Rated Glass
15mm Pyranova 30
18mm Pyranova 30
23mm Pyranova 60
Non Fire Rated Glass
12mm Toughened
10.8mm Acoustic Laminate
12.8mm Acoustic Laminate
16.8mm Acoustic Laminate
17.5mm Toughened Laminated
21.5mm Toughened Laminated
Compatible With
Blinds

Manifestation

Graphics

Switch Glass

Loft Style Banded
Finishes
Annodised SAA / Brushed

Polyester Powder Coat

Brushed Brass / Bronze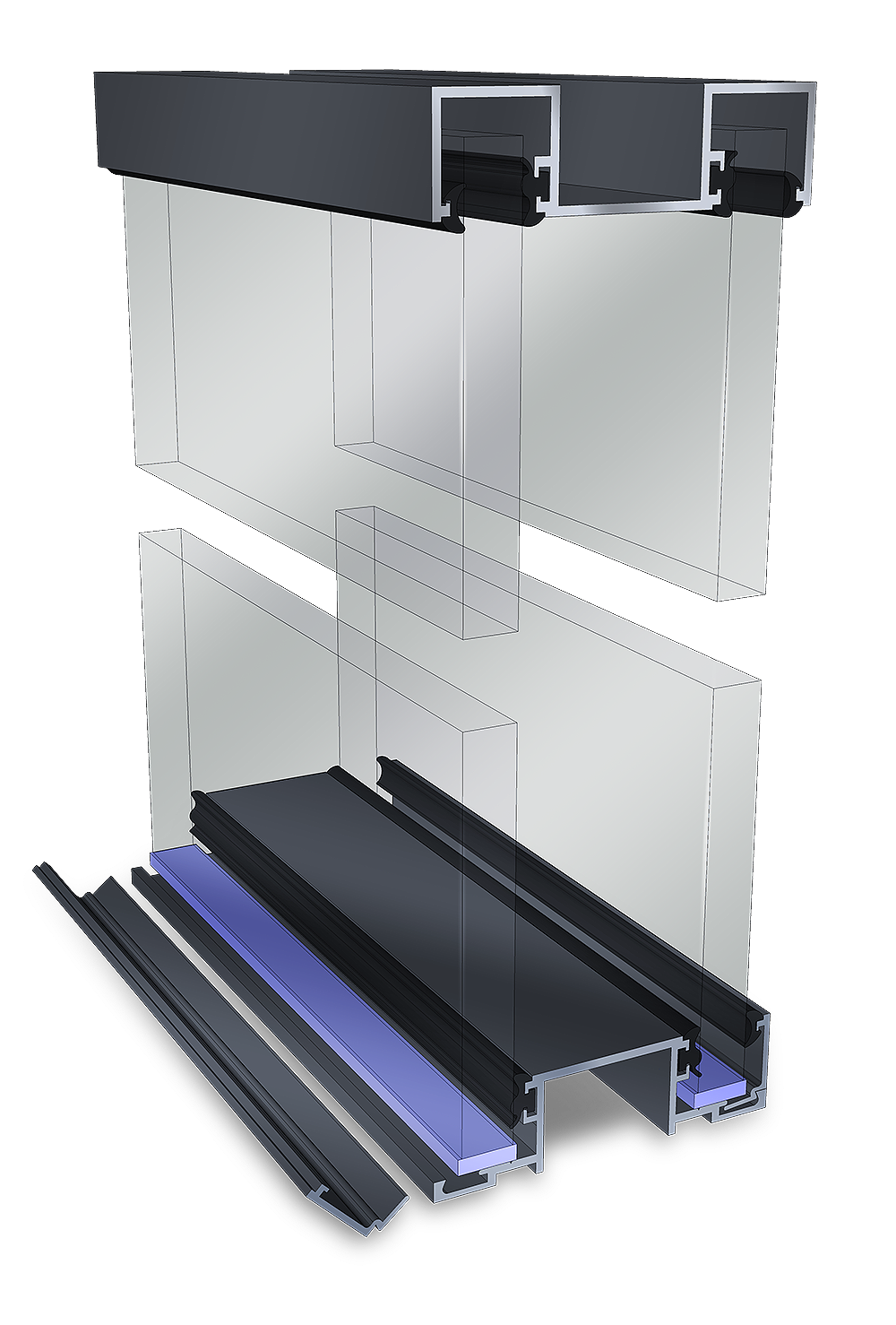 FAQs
There are two classifications for fire protection when it comes to glass doors and walls. Fire integrity refers to the ability of the glass to stop the progress of fire and smoke, while fire insulation refers to its ability to prevent heat from moving to the other side of the partition.
Category E is for integrity only, preventing the spread of fire and gases but not the transfer of heat.
Category EI is for both integrity and insulation, offering the highest protection against flames, smoke, and heat so people can evacuate safely in the event of a fire.
Fire rated glass is tested in a controlled environment to determine its rating. The rating will be listed in minutes; for example, glass rated E30 would maintain integrity for 30 minutes.
At Glass Interiors, we provide fire rated glass certified EI30 and EI60, which provide full integrity and insulation protection for 30 or 60 minutes. They also come with an acoustic rating of 62 decibels for the added benefit of soundproofing.
Fire-resistant glass can withstand temperatures hundreds of degrees higher than standard toughened glass. It uses multiple thin layers of toughened glass to slow the spread of fire – giving people more time to get out of the building and making it easier and safer for firefighters to put the fire out when they arrive.
Fire rated glass doors and partitions carry out the job of regular glass in dividing spaces and improving aesthetics, but they have the added function of trapping flames, smoke, and heat inside the partitioned area for at least 30 minutes. Not only does this save lives, but it also limits damage to the building and reduces repair costs.
The TG100 fire rated glass system available from Glass Interiors offers high levels of protection without compromising on looks. Its 30mm deep section offers a slimline appearance and is available up to 3m high for fire glass walls and doors. They can be used both internally and externally to keep buildings safe.
Fire safety should be a priority for any building used by a large number of people, such as employees, visitors, and members of the public. While not all glass partitions and doors need to be fire rated, it's crucial to install fire rated glass where necessary.
Typical areas where fire glass should be used include entrances and exits, stairwells, and any other escape routes from common areas. Consult the building regulations for your region to find out where fire rated glass must be implemented to comply with the law, plus where glass should be integrity and insulation protected and where it can be integrity-only.
Fire rated glass partitions and doors should be appropriately tested and should only be installed as part of an approved fire safety system. Never risk reduced effectiveness in the event of a fire by attempting DIY installation. Fire glass should always be fitted by a specialist such as Glass Interiors to ensure correct installation in line with building regulations.